Doc Garcia can take care of all your garage door opener repairs.
Did You Know?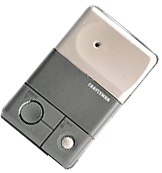 Customers are sometimes are not sure of the terms used to describe what they need.  Frequently they will ask for a new garage door opener when what they actually mean is a door "clicker," the remote control.  A garage door opener is a the motorized device that opens and closes garage doors. Most are controlled by switches or buttons mounted to the garage wall near the swing door, as well as by remote controls carried by the homeowner, most often clipped to the vehicle's sunshade.
Major Brands of Garage Door Openers
Allister
Craftsman
Genie
LiftMaster
Linear
Sears
Stanley

. . . to name but a few.
Common garage door opener service
Repair or replacement

Remote controls, transmitters, clickers, keyless exterior entry pad

Worn plastic gears

Worn chain / cable sets

Light bulb sockets

Plastic or metal trolley and carriage assemblies

Motion sensors

Mounting bracket
Testimonial

"The Garage Door Doctor responded to my problem within a few hours of my call. He assessed the unsightly issue with my wood door and suggested a creative solution that saved me the cost of having to replace the door."

~ R. Saavedra, Albuquerque